Despite being one of the most tiny and remote settlements in New Zealand, there are still plenty of things to do in Milford Sound. Almost all activities involve taking in as much of the amazing scenery as possible, and for good reason!

Cruise
The number one activity in Milford Sound is without a doubt taking a cruise. This is the main reason most people go to Milford Sound, and for good reason. Getting out on the water is the best way to take in the sheer beauty of the sound. Cruise boats will take you to corners of the fiord that you could never access on foot, getting you closer to waterfalls, wildlife, and giving you different views of the mighty Mitre Peak.
Hike
The Milford Sound Track is the most well-known hike in the area. This epic four-day hike traverses the mountains from Lake Te Anau to Milford Sound. It's a pretty incredible way to get to Milford, but only 40 independent hikers per day are allowed on the track during the Great Walk season, due to the limited space in the huts and the fragile environment in Fiordland National Park. These 40 spots get booked up many months in advance, so hiking the Milford Track is not an option for most visitors to Milford Sound.
Luckily, there are many other short walks in the Milford Sound area. These range from 10 minutes to four hours, giving you the chance to be fully immersed in the wild rainforests in the region.
Make sure you check out our top picks for walks in Milford Sound.
Fly
Scenic flights give you the best views of Milford Sound. From above the fiord, you'll be able to see impressive alpine lakes, the tops of towering waterfalls, and just how tall the walls of Milford Sound are.
You can choose to book a coach to Milford and fly back to get the best of both land, sea and sky.
Camp
Freedom camping is not allowed in Milford Sound, but there are some stunning DOC and privately-owned campsites in Fiordland. You can camp in scenic locations close to Milford Sound, which gives you the chance to spend longer immersed in the incredible scenery of the area.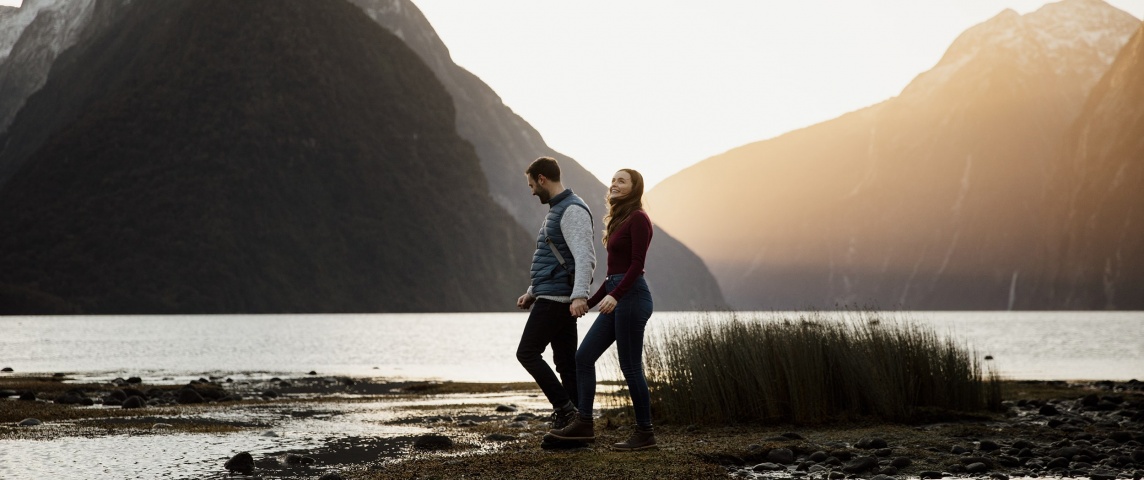 Kayak
Kayaking is a peaceful way of exploring Milford Sound. You might even get to swim!

The Foreshore Walk
Take your time to appreciate your surroundings when you first arrive in Milford Sound. It's easy to get caught up in the excitement of cruises and activities, but we love the idea of walking this 30-minute loop along the waterfront first. This walk is an easy stroll along the perfectly positioned boardwalk. It takes you through small sections of beech forest before peeking out to viewing points of Mitre Peak.
The Swing
Also found on Milford Sound's waterfront is an awesome swing! Simply made from driftwood and rope and placed between two trees, this has got to be the best swing view you'll ever come across. With uninterrupted views of Mitre Peak and the entire fiord, be sure to snap a photo of yourself loving life! That is, if you manage to find it!

Stay overnight
A day trip is the most common way to experience Milford Sound, although there are options for staying in the World Heritage site overnight or longer. Grab your camper and book a night at the powered site that's right in the middle of Milford Sound, or treat yourself to a stay in a luxurious chalet. One of the benefits of staying overnight is you can stay up late (or get up early) to catch a glimpse of the incredibly bright stars that light up Milford Sound by night.