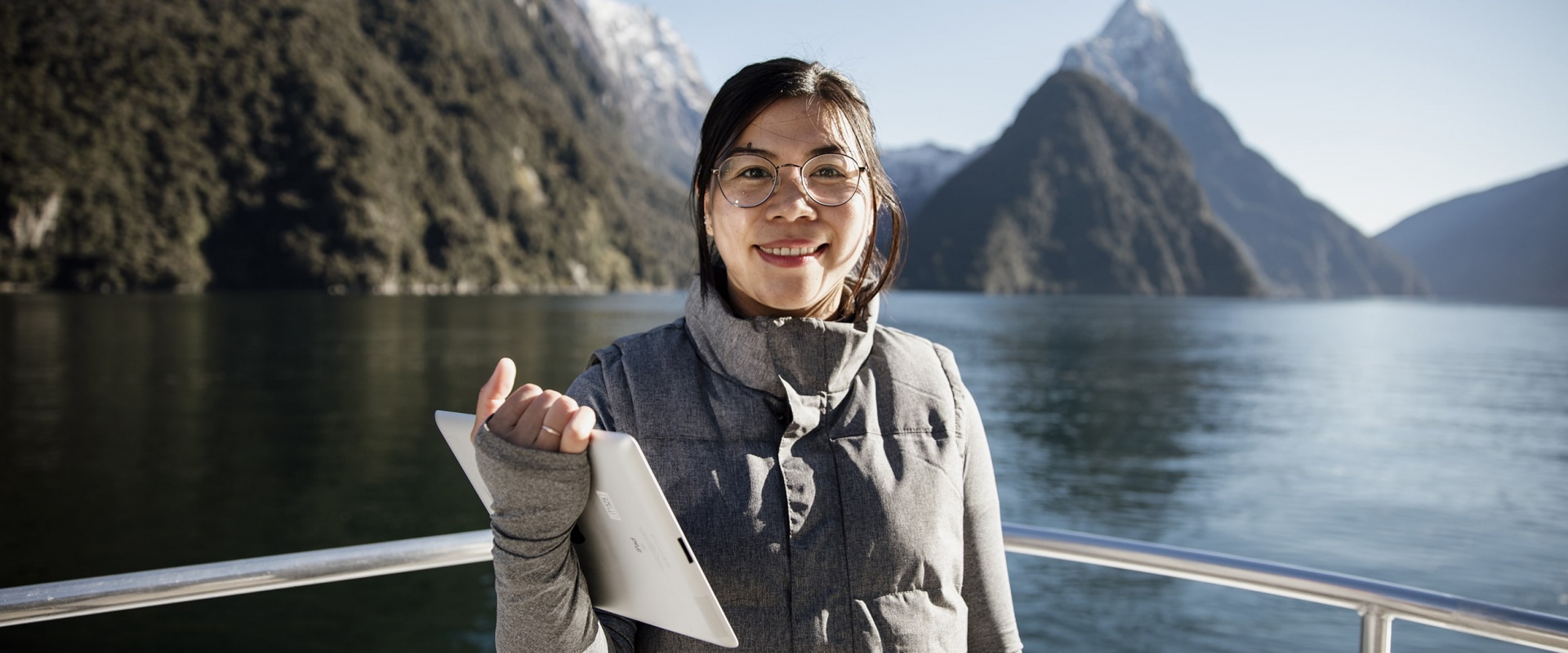 Meet the Pure Milford crew
Meet the Team
Our crew is what set us apart from the rest. Our small but mighty teams in Queenstown and Piopiotahi / Milford work hard to guarantee that each day is better than the last and to ensure that we protect this special place. We believe every visitor should have the opportunity to learn and leave wanting more from Piopiotahi / Milford Sound. We promise to help you enjoy every moment while we teach you what we know about our place.
Boat Host
Jasmine
Hi, I'm Jasmine! Originally from China, but I look more like a Philippino or Thai. Favourite hobby; eating, definitely eating loads of different yummy foods, and I prefer meat! What I love about working with the Pure Milford crew is engaging with people. The whole team is fun, and we are always having a blast with each other. My favourite thing about Milford Sound is no matter how long I stay, I always have something new to explore, and no matter how bad the weather is, it's always fun to live here. My role in the show is making people happy and allowing them to have fun onboard, sometimes a baby sitter or a wildlife watcher. I can tell interesting facts and funny stories about living in Milford Sound..
Milford Office Manager
Pink
Hi I'm Pink, originally from China. I work at our reception counter in Milford Sound Visitor Centre dealing with check ins and other cruise related queries. You also might see me having some great chats to guests and getting amongst the waterfalls on the cruise. Nobody can resist some changes of their office day! I'm obsessed with photography and meeting new people. There is just no better place or job in the world where you can enjoy the whole experience with new people every day. The Pure Milford Crew are a lucky bunch who get to live in this pristine place together like a family. We share all the adventures we have done in Fiordland National Park with each other and can't wait to do the same with you coming on board with us.
Food & Beverage Manager
Ryan
Hello, What's the craic? My name is Ryan and I'm from Ireland. Like most Irish I like a chat and don't let the truth get in the way of a good story. I'm from a place called Belfast in the north of Ireland (Pronounced – Norn Iron). I have been in New Zealand now for 5 years and Milford Sound for pretty much the whole time (they don't let me out much in case I get into trouble). I am fond of a few beers every once and a while, but as you can tell from my picture, I am an athlete and treat my body like a temple. I LOVE Milford Sound, it is the most extraordinary place I have been and it is an absolute pleasure to call it home. There are many positive about living here - wildlife, remoteness, wildness, and beauty to name a few but my favourite thing is the amazing people I get to meet daily. One Question I do get asked is – Do you get bored of the same thing all the time? How can I? The place is amazing and each day changes depending on the elements and the people. By far my favourite type of day is the stormiest weather days when the wind is hurricane force, and the rain is pelting down.

Sales & Marketing Manager
Kate
Hello! Kate here; all the way from Dublin, Ireland. My Kiwi story is like a lot of others who came to Queenstown expecting just to stay for a ski season, and yet here I am 6 and a half years later as a Permanent Resident with a place to call my own in this beautiful part of the world. My background is in Physiotherapy, and despite having plenty of business on tap from the adventure hungry bikers, hikers, skiers, and daredevils in the region, I found my love for the tourism industry was too strong to ignore. Like Ryan, I live up to as many Irish stereotypes as possible- fond of the craic, a thirst for a few beers, can't get enough spuds and love a good chat. The ''gift of the gab'' has certainly come in handy in my role as Sales and Marketing Manager looking after our fabulous agents, online sales channels, Queenstown shop team and Pure Milford marketing! I am based in Queenstown but am often out and about in region, throughout the country and of course catching up with our amazing crew in Fiordland. I can't begin count how many times I have been to Milford Sound, but it is just as beautiful and inspiring on each visit as it was the first time – rain or shine!
Head Skipper
Callum
What I do: Head Skipper... debatable if I do any work though.
From: Born in the city of the future: aka Tron legacy.
Hobbies: Enjoys long walks on the beach, whisky and dancing in the rain
Favourite thing about Milford Sound: Rain! It's the best time to come and see our fantastic waterfalls. Our tasty glacier water also pairs well with whisky.

Accounts
Debra
Hey I'm Deb! I'm the Aussie who came to visit and stayed for the most amazing adventures in New Zealand. With a passion for travel and adventure and a background in numbers I found my way to the best mob in QT and Milford. I'm the Accounts gal (aka Mum) who enjoys Hiking, Art, Photography, Beautiful Beaches and Wild Untamed travel destinations (can't beat Milford for that!). Nothing better than a good book on a quiet deserted beach in Milford. There are places on this earth that capture a piece of you and Milford Sound Fiordlands has captured a piece of my Heart and Soul.
Show more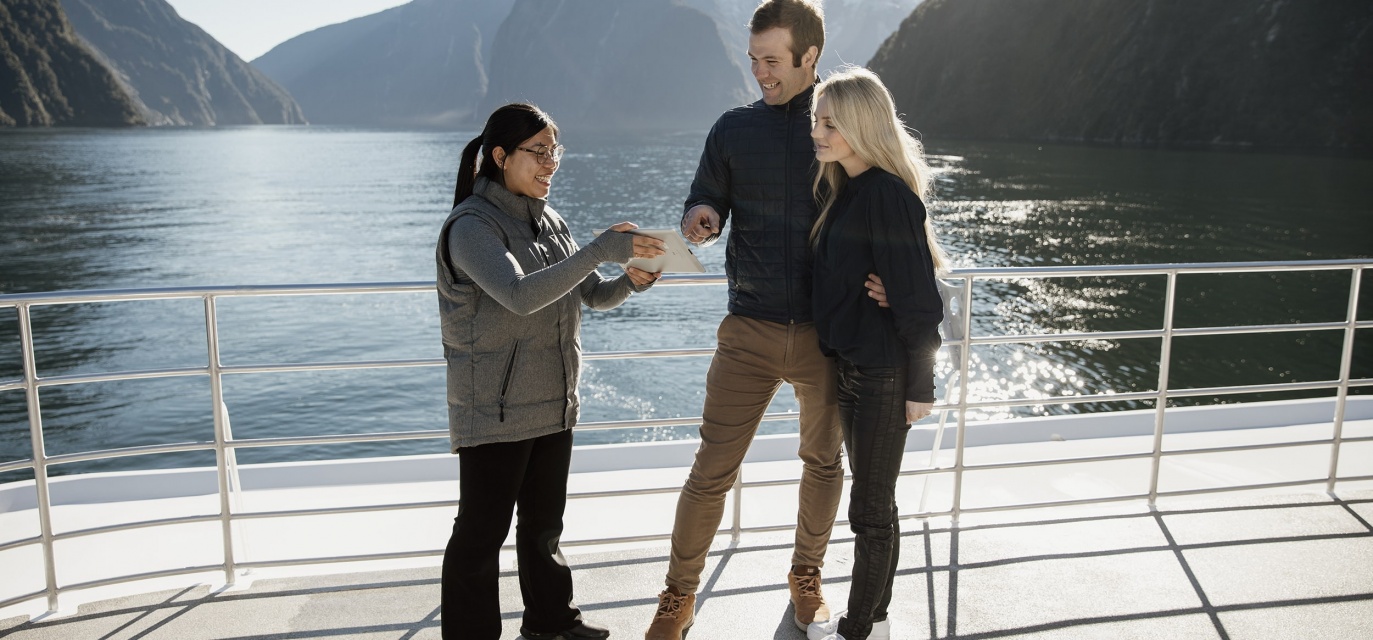 COME ABOARD
Join the team
Whether you're better suited to the hustle and bustle of Queenstown life, or would prefer the opportunity to disconnect and work in remote Piopiotahi / Milford Sound, we have a wide variety of roles in the Pure Milford team. Visit our Careers page for latest job vacancies and opportunities.
Learn More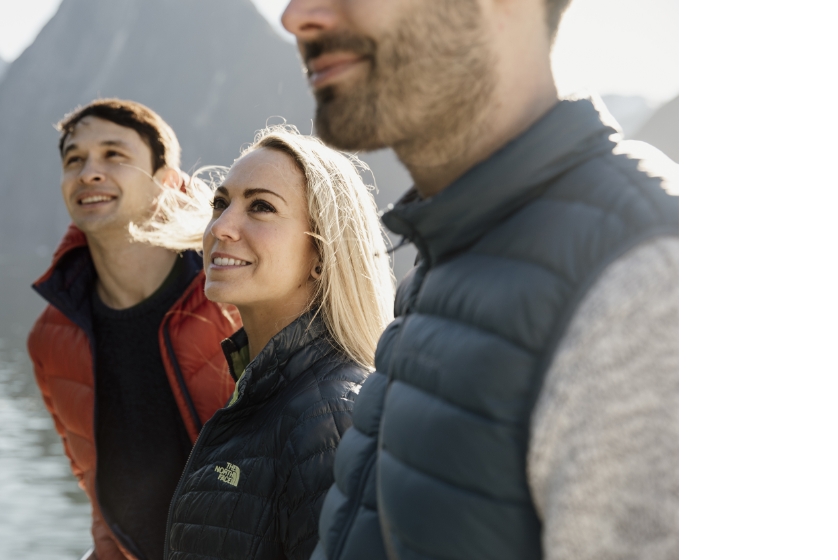 Cruises Unavailable - May
Cruises Closed for Survey and Maintenance - 02 May-02 June. Close notification window for bookings from June onwards.