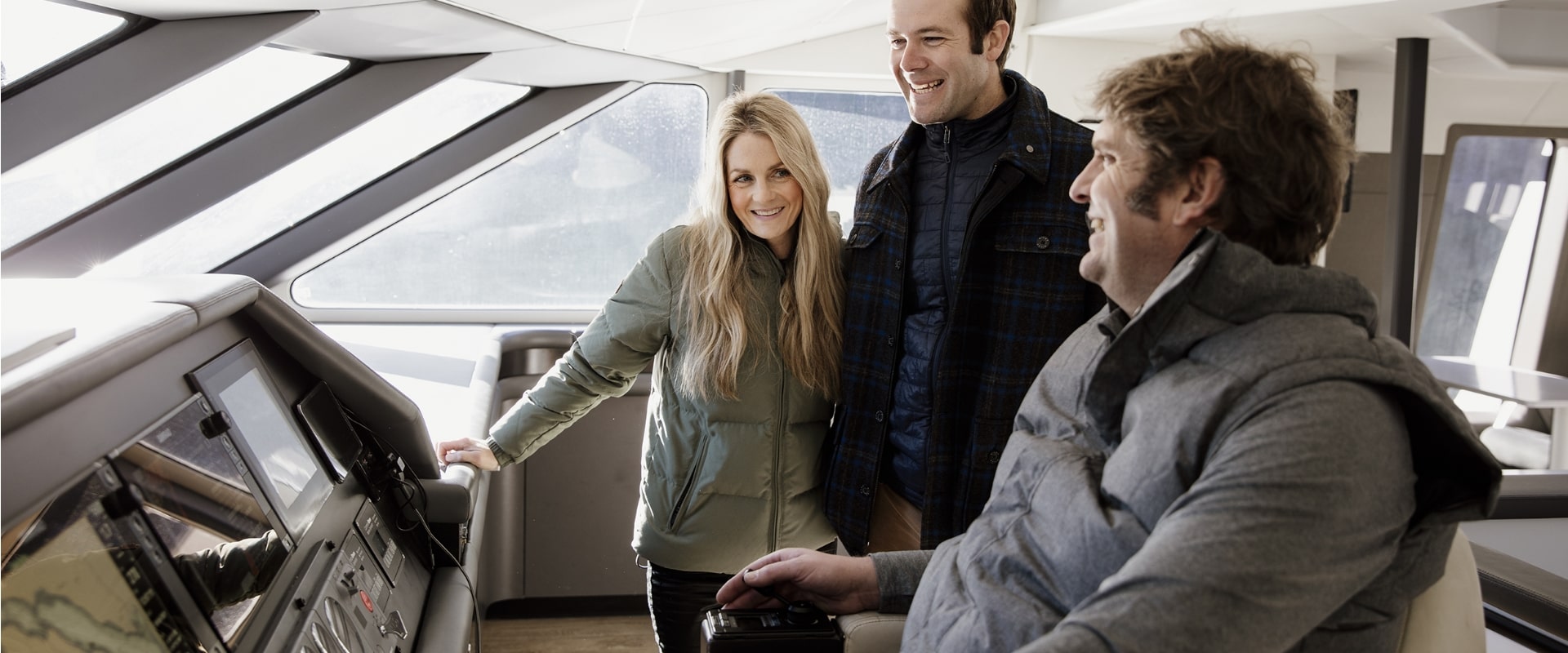 We would love to
have you on board.
Careers at Pure Milford
If you love what you do, you'll never work a day in your life.
With teams based in Queenstown and Piopiotahi / Milford Sound, we are fortunate to call two of the most beautiful places in the country home. Working in a growing tourism business, every day is different and there is a wide variety of roles available from skippers to sales, admin to accounts and everything in between.
Keep an eye on our Careers page for latest vacancies and opportunities to join the Pure Milford team.
Job Listing
Our Milford Sound team is expanding and we are looking for new all round superstar!
Boat Crew / Galley / Office Crew all round superstar wanted in stunning Piopiotahi / Milford Sound. Live and work at the Eighth Wonder of the World!

In this role you will get to be out on the water doing what you love every day. The role has a focus on passenger safety and enjoyment, and you will be required carry out safe ship practices and training. You will be meeting with travellers from all over the world and sharing unique moments.
Read more
Show more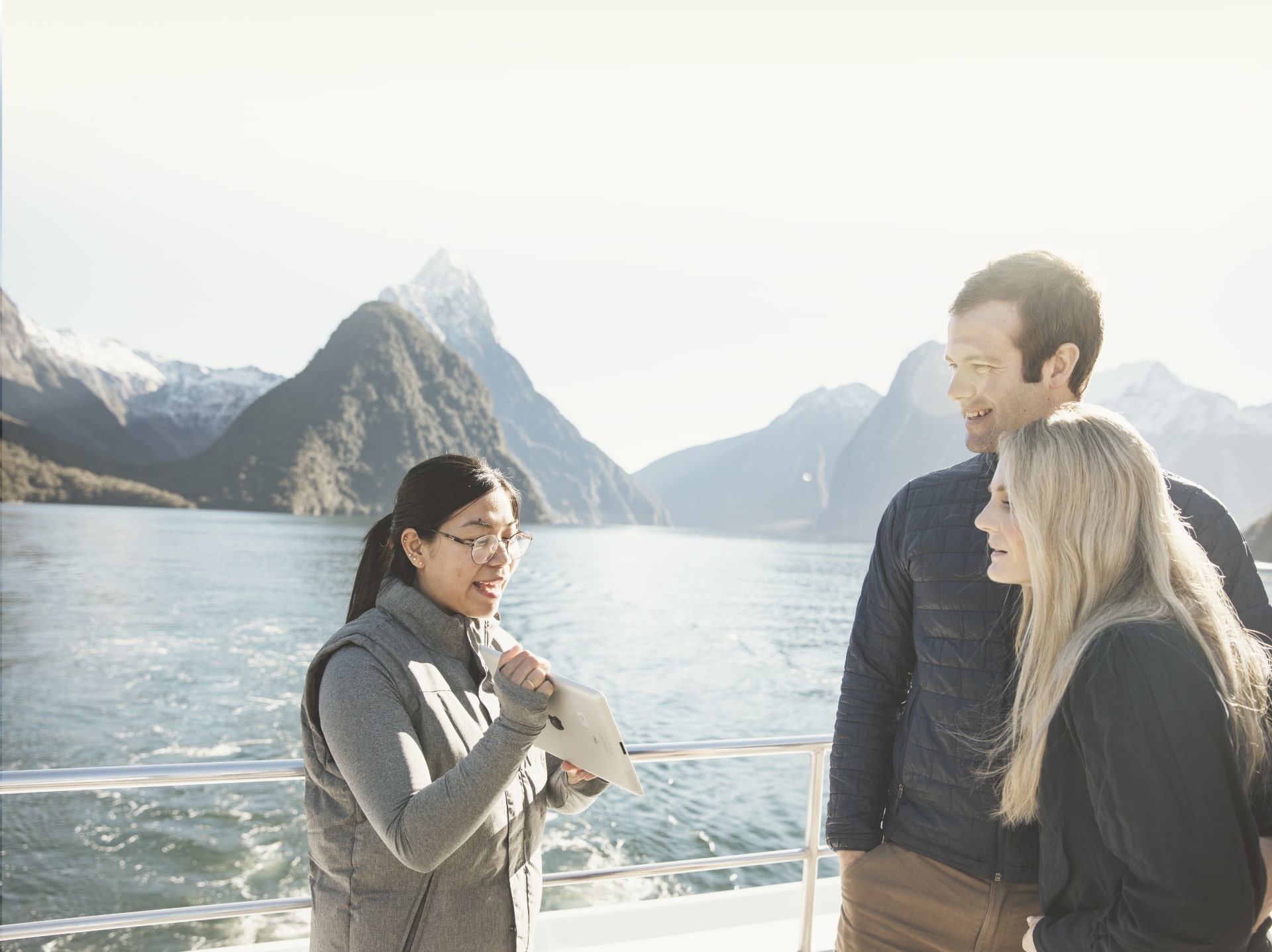 What our guests have to say
The HIGHLIGHT of our South Island Trip, Couldn't recommend these guys higher, the boat the people on board (Staff) the ACTUAL TRIP, the knowledge.....just next level......and the sounds are STUNNING
We had the best experience. From the coach ride to the cruise. Our coach rider was the best. The cruise staff were full of fun as well. That's just an addition to the magical sceneries.
We had a wonderful time on the Milford Sound cruise - the operators showed us some wonderful sights and got very close to the waterfalls and wildlife. They also had great knowledge of the cliffs, glaciers and animals.
Amazing unforgettable experience where nature scenery speaks itself. Very friendly crew members providing extra ordinary services. Accidentally my gifted cap fell in the waters halfway and the captain stopped the cruise allowing 2 crew's picking my cap from the waters via rescue boat. Unforgettable memories for a lifetime. Don't miss this opportunity visiting South Island. Highly recommend well deserving 5 stars
The boat was spacious,, clean and comfortable. The crew were knowledgeable and shared their love of the location with us. The hostess told us not to be sad that it was raining. She said it rains 200 days of the year here, we measure rainfall in metres, last year we had 10 metres of rain... 'this is our liquid sunshine.. be happy and feel free to dance in the rain'. The captain started the trip with a welcome and introduction in Te Reo, provided informative commentary, turned the boat around do we could see penguins, stopped boat so we could see dolphins and handled boat expertly. The cafe staff were great, provided great food with free tea, coffee and hot chocolate. This team's love of the location and their vessel was evident and they shared a part of themselves when they took us out for the trip. They made a special day and place even better because they love it. Kia ora!
don't know where to start, the dolphins escorting our boat out, the Tawaki penguins or the gorgeous falls! This cruise not only lived up to expectations but absolutely smashed them! While we were delayed due to an avalanche, the morning cruise still went ahead. During this new age of Covid it would've been easy for the staff onboard to become complacent but they weren't and were amazing, friendly, knowledgeable and hospitable. Thank you so much for the amazing experience and please, if you have any reservations about this cruise leave them onshore as the team will not disappoint!
Was an amazing experience, lovely boat/catamaran to ride on! The staff were very friendly and accommodating! Captain and his commentary was also entertaining! We all loved it! Would highly recommend cruising with these guys, will go again. Thanks for an amazing afternoon!
This cruise was amazing and the scenery is absolutely stunning!. The staff are all very friendly and helpful and, even though they are always being professional, they are relaxed and fun to be around. The skipper on our cruise was quite comical and fun whilst continually being informative and knowledgeable. This was such a great experience.
I had an amazing cruise! Boat is lovely and modern. Staff were super nice and the tour was absolutely beautiful with great commentary and great length. Could not have wanted anything more!
Incredible coach tour approx 4 hour drive from pickup in Queenstown with many cool stops along the way with the best tour driver, Wayne!! Wayne was very knowledgeable about the Fiordland area, learnt a lot of history and a great driver getting us there and back home safely! The Milford cruise was amazing with a perfect sunny blue sky day along with a paper bag lunch that included a kiwi pie, apple, muesli bar, cheese crackers and bottle of water!! The 2 hour cruise was spent on a smooth catamaran ride was awesome with great views of the waterfalls, seals, and Mountains. Our whole family had the best day trip to a very special place in the South Island