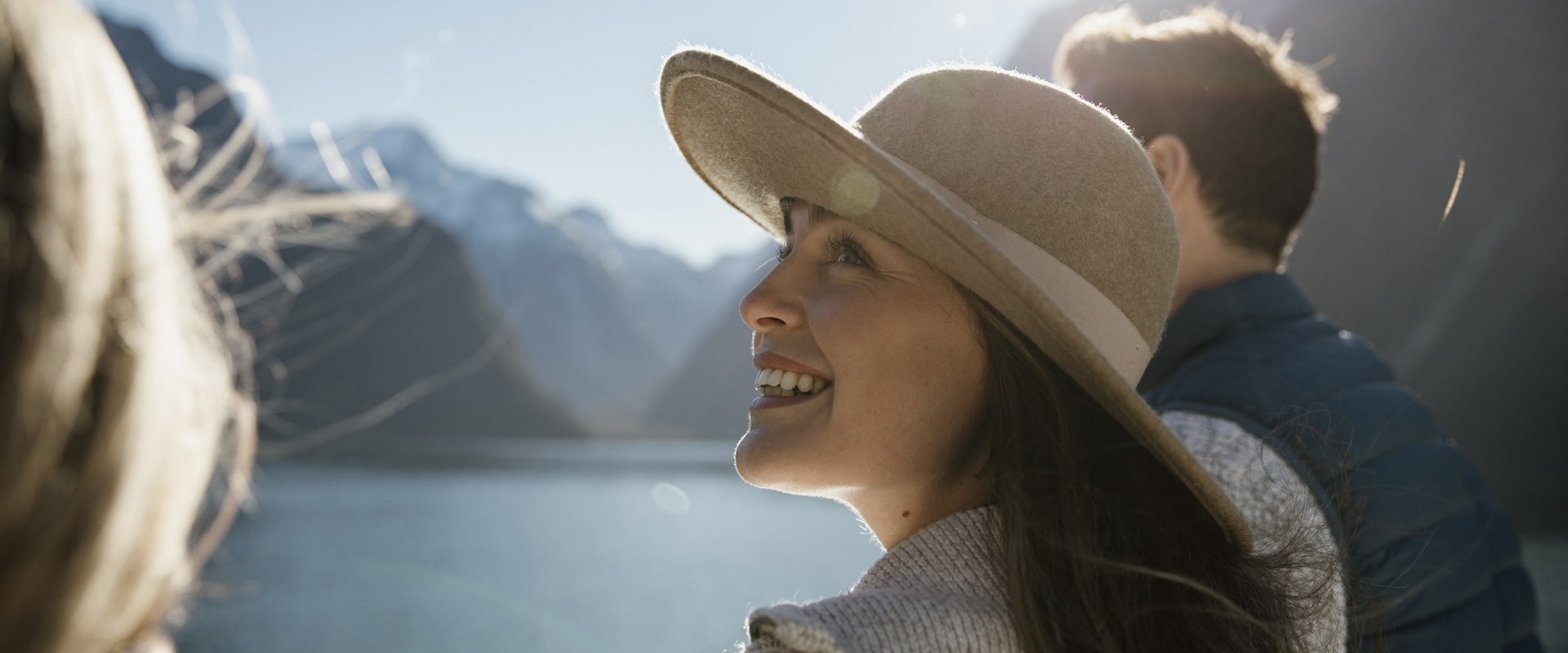 Learn how to prepare
for your cruise
Milford Sound is the most famous fiord in the Fiordland National Park and is situated on the south western coast of the South Island. It is the most accessible of the fiords in the National Park, and is reachable by car, bus, plane, helicopter and even by foot if you choose to tramp the renowned 53km Milford Track. Despite its accessibility, it is still a 5 hour drive from Queenstown to Piopiotahi / Milford each way, and 2.5 hour drive from Te Anau, so it's important to factor this in when planning your Milford Sound adventure

There are multiple options for getting to Milford Sound. You can choose to travel by car, coach or plane! All three options have unique benefits, and one important thing in common - they all let you experience the beauty of Fiordland. Visit our 'Compare Trips' page to choose the best option for you.

Queenstown to Piopiotahi / Milford Sound is a 290 kilometre journey; about 5 hours with no stops. The distance from Te Anau to Piopiotahi / Milford Sound is 120 kilometres, and takes 2 hours with no stops. The coach and cruise day tour from Queenstown is about 12 hours return, and from Te Anau is about 8 hours return. The fly cruise tour from Queenstown is approximately 5 hours.

There's only one road in, one hotel, and one cafe at Piopiotahi / Milford Sound. However, despite being tiny and remote, there's still plenty of things to do in Piopiotahi / Milford Sound! The number one activity in Piopiotahi / Milford Sound is without a doubt taking a cruise. The best way to appreciate the sheer beauty of the towering mountains, hanging valleys, cascading waterfalls and wonderous wildlife is from deep within the fiord. Visit our journal post ''What to do at Milford Sound'' for some more inspiration on how to make your trip to Piopiotahi / Milford Sound a memorable one.

You are likely to experience all four seasons in one day in Fiordland, so warm layered clothing and hat, a good raincoat, comfortable footwear, sunglasses and sunscreen are a must. Leave the umbrellas at home as they don't fare well in battle with a breezy cruise!

The sandflies are just as hungry today as they were the first time settlers landed here, so we would recommend bringing along some repellant!

The on board Cafe / Bar can accept credit card and Eftpos payment, but lack of connectivity can be a (good!) problem while out cruising the fiord, so it's a good idea to bring some cash along for drinks and snacks on board.

If you want to get the full Piopitahi / Milford Sound experience, then standing outside as the boat approaches Stirling Falls is a must! Apparently the glacial melt makes you look younger so there is only one way to find out. Bring along a change of clothes and a towel so you can dry off for our journey home at the end of the cruise.

Make sure to bring a fully charged phone and/or camera as there are plenty of moments you will want to remember! Power points are few and far between in the terminal and on board the cruise, so bring along a battery bank too if you can't wait until you get home to edit your photos.

There is no pharmacy, supermarket or reliable petrol source at Piopiotahi / Milford Sound, so it is important to stock up on your essentials before you leave Te Anau.

Piopiotahi / Milford Sound is the ultimate wet weather activity! A moody day is a good day, and if you are picturing sunshine and blue skies, you may want to adjust your expectations. It's possible to go to Piopiotahi / Milford Sound on a blue-bird day, but this spot has some of the highest rainfall levels in the world. In this case, rain is your fantastic friend – it's the reason you will see lush rainforest and cascading waterfalls! High amounts of rainfall create new and temporary waterfalls and that picturesque cliff face bursting with glacier fed water.

The Pio Pio Cafe at the Milford Sound Lodge near the end of Milford Road has an extensive lunch and dinner menu offering a leisurely sit down dining experience. Reservations are recommended. The Discover Milford Sound Information Centre and Cafe a short walk from the Piopiotahi / Milford Sound terminal, and is open 9am - 4pm daily. Barista coffee, light snacks and good grab and go options are available to stock up on before heading to your cruise.

There is a Cafe Bar on board the cruise itself, with plenty of hot and cold cafe style refreshments available for purchase. Enjoy free tea and coffee throughout the cruise too!

There is a car park at the terminal where you can park both cars and camper vans. The facilities are run by Milford Sound tourism, and the charge is $10 per hour. It is a barrierless system, and parking can be paid for before OR after your cruise at pay stations in the car park or inside the terminal. Please allow up to 10 minutes to walk from the terminal to the carpark. There is wheelchair accessible parking right outside the terminal. There is a free parking area available at Deepwater Basin. This is a left hand turn just before you enter Piopiotahi / Milford Sound village. Parking here is limited and is first come first served. You will need to allow 20-25 minutes to walk from here to the terminal so be sure to factor that into your journey time!

As Piopiotahi / Milford Sound is part of the Fiordland National Park and a nature reserve, dogs are not allowed. There are certain hunting areas and walking tracks that dogs are permitted in controlled circumstances in the National Park but little to none of these are accessible from the Milford Road. More information can be found on the DOC website.

All cruises depart from the wharf at the Piopiotahi / Milford Sound Visitor Terminal. Check in begins 20 minutes before the cruise, and is processed at the Pure Milford desk on the right hand side as you enter the terminal.

Pure Milford cruises are 1 hour 45 minutes to two hours long, and follow the same route along the fiord: up the left hand side of the fiord, turn around at the Tasman Sea, and return on the opposite side stopping off at points of interest along the way.

The Milford Road is a very well maintained single lane highway forming part of a 1000m Alpine pass. Although it is one of the most scenic drives in New Zealand, the road has its challenges and it is important to leave enough time to complete your journey safely. The road can be busy in summer time, and can receive snowfall to ground level during winter so there are potential hazards year round. During the winter season (May - November) it is importamt to carry chains in your vehicle (as well as knowing how to fit them), and to check the NZTA website for any road closures or delays.

The cruise goes the full length of the fiord to the Tasman Sea and return down the opposite side. During the two hour exploration you will pass iconic landmarks such as Bowen Falls, Mitre Peak, Copper Point, Fairy Falls, Bridal Veil Falls, Dale Point, Seal Rock and of course Stirling Falls.

Piopiotahi / Milford Sound has plenty of famous wildlife but as they are wild animals, viewing cannot be guaranteed. New Zealand fur seals are spotted on almost all cruises, and playful dolphins do come to explore the fiord from time to time. The tiny and elusive Fiordland Crested Penguin is more commonly spotted August - November.

All cruises bring the boat right up to Stirling Falls waterfall so you can choose to be sprayed in glacial melt on the bow, or to watch the entertainment from inside! There are two indoor viewing decks, as well as a covered outdoor deck at the rear, so you can still experiene all Piopiotahi / Milford Sound has to offer while staying dry if that is your preference.

Yes all cruises are perfectly family friendly and suitable for all ages. There is a kids corner on board with books, toys and games to keep the little adventurers entertained throughout.

There is disabled parking just outside the terminal, with ramp access down the wharf. The bottom deck of the Gem of the Sound is explorable for wheelchair users, with accessible toilets and the Cafe/Bar on this deck. Provided it is not too windy, there is access to a small rear viewing deck on this floor too. Unfortunately our coaches are not accessible to wheelchair users, however our flight options can be depending on the ability of the individual. Please contact us for further information on accessible flights.

We relish the rain in Milford Sound, and long for those wetter days. The fiord comes alive with thousands of temporary waterfalls in a matter of minutes! Our cruises will go ahead in all weathers, provided it is safe to do so. In the event of cancellations (e.g. due to high winds or the road being closed) you will be given the option to reschedule your trip to another day, or recieve a full refund.

The Te Anau pick up is from the Kiwi Country gift shop and Hollyford Cafe in central Te Anau. The Queenstown coach picks up from a selection of bus stops in the centre of town and along the Frankton Road: Rydges Bus Stop, Crowne Plaza Bus Stop, Athol Street Bus Stop, Upper Stanley Street Bus Stop, Pounamu Apartments Bus Stop, Rees Bus Stop, Goldfield Heights Bus Stop, Marina Heights Bus Stop and Frankton Bus Shelter. Please see link here for our Queenstown Pick Up Route map.

We cannot guarantee that there will be a toilet on our buses. The longest time you will go without a toilet stop is 2 hours.

There is no Wi-Fi on board our coaches or cruises. All phone signal is lost on entering the Fiordland National Park, allowing you to disconnect and enjoy the spectacular scenery.

Yes. Please ensure that a car seat or suitable restraint is brought for all passengers 4 years and under travelling on our coach to ensure their safety and safety of others. Each person travelling on the coach will be allocated their own seat regardless of age.

Lunch is included in the coach tour, and is served on board the cruise. We can cater to vegetarian, vegan, gluten free and dairy free requirements.

We have space for storing buggies, walkers and other luggage on the coach so you are welcome to bring these on the coach tour with you.

On departing Queenstown, the coach will drive two hours to Te Anau before making a rest break where you can use the rest room, grab a coffee, stretch your legs or stock up on any essentials. On leaving Te Anau, the coach spends about 3 hours in the National Park stopping at points of interest such as Elginton Valley, Mirror Lakes, Knobs Flat, Monkey Creek and Homer Tunnel (depending on avalanche risk). On the return journey, the coach drives directly from Piopiotahi / Milford Sound to Te Anau, and then on to Queenstown after a short break.

The flights depart from True South Flights' office in Remarkables Park Town Centre, Frankton. You can drive yourself to the office, or enjoy complimentary return transfers from your Queenstown or Frankton accommodation.

In poor weather conditions you will be offered the option of rescheduling to another day or another time, or receive a full refund. Spring and Autumn weather is more unpredictable and changeable, whereas Summer and Winter days are usually more stable.

Infants aged 0-3 fly for free on a parents lap. If you do not have your own child restraint, True South Flights will use a child belt that loops through the parent's seat belt

We have a 24 hour cancellation policy for customers booking directly with Pure Milford. If you give us more than 24 hours' notice that you would like to cancel your trip, you will be entitled to a full refund. If you cancel within 24 hours of your trip departure time, you will not be issued a refund.

If the road to Piopiotahi / Milford Sound is closed, or there is bad weather that prevents us from running the trip, we will give you the option to reschedule your booking to another day, or to receive a refund.

We are following the guidelines from the government, Ministry of Health and Worksafe. Currently, there are no requirements for vaccinations or mask wearing to join our tours. For full list of measures and policies, please see our ''Covid 19 Policy' page''.
Start Your Adventure
Cruise options to suit you
Now that you have navigated through our FAQs and are a Piopiotahi / Milford export, you can choose to explore the Fiordland National Park by car, camper, coach or even plane!
Compare Trips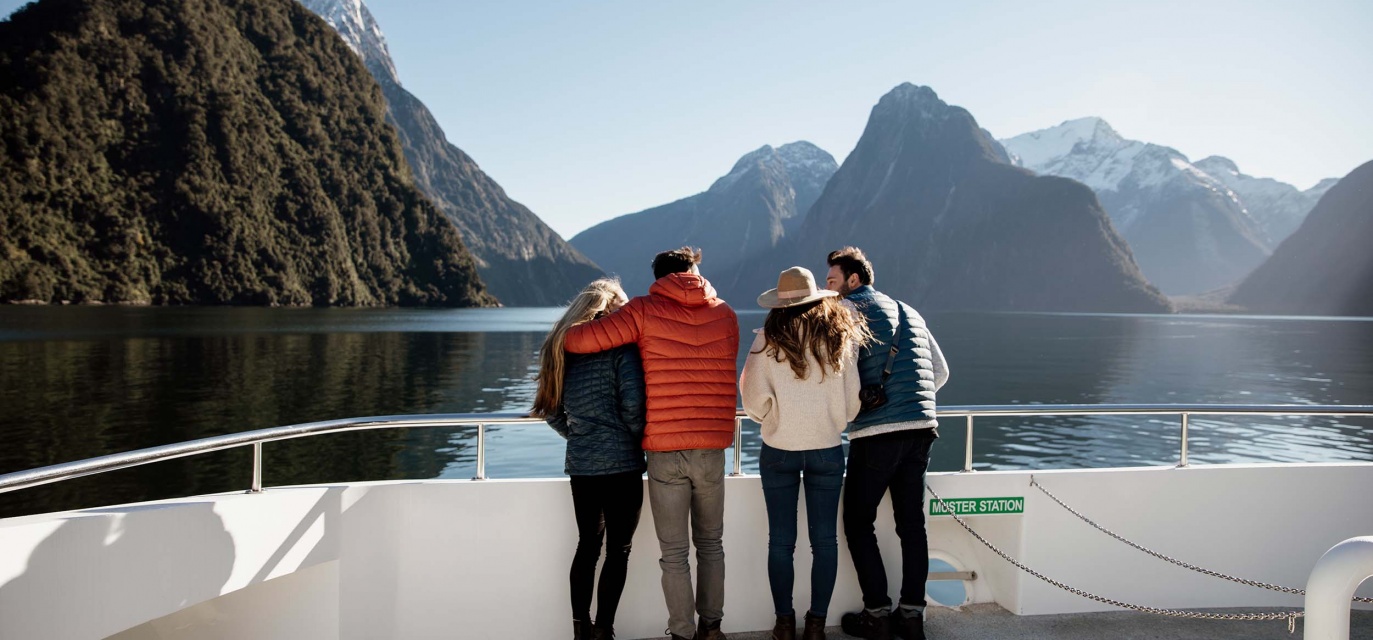 FROM THE JOURNAL
Safety tips for driving to Piopiotahi / Milford Sound
The Milford road is beautiful, but it has its challenges. Here are a few of our top tips for driving to Piopiotahi / Milford Sound.
Compare Trips